Hi, all black belts candidates in Finland
First of all, thank you so much for your making Essays  so that  we can read and share our own thoughts and opinions etc.  I made some brief descriptions with red color.  Any questions or opinions, please contact directly with a writer or me. Have a good day! From Kim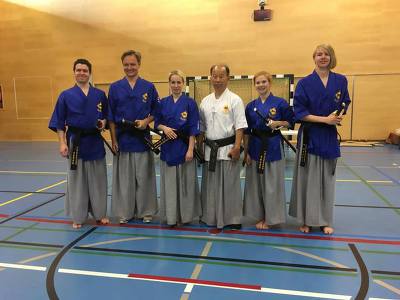 1. Essays for 3 dan candidates(Maddie and Gerardo)  
 2. 
Essay of Ilkka Hämäläinen, Haedong Kumdo Järvenpää, Finland
3. Questions and Answers for Grandmaster Kim, by Samu Iiskola (4.8.2017 )
4. What is the relationship between mind and body when practicing martial arts? How can that be extended to personal life? by Sakari Kukko 4.8.2017
5. Tommi Vainikka, Järvenpää – Finland, 3.8.2017 Haedong Kumdo 2nd dan test   
6. THOUGHTS ABOUT HAEDONG KUMDO AND MARTIAL ARTS IN GENERAL Christian Hagman, 1. DAN candidate, 2017
7. Written down by Risto Sainio- Mind in martial arts  
■■■■■■■■■■■■■■■■■■■■■■■■■■■■■■■■■■■■■■■■■■■■■■■■■■■■■■■■
■■■■■■■■■■■■■■■■■■■■■■■■■■■■■■■■■■■■■■■■■■■■■■■■■■■■■■■■
Q&A TO THE ENERGY IN THE MARTIAL ARTS .
ESSAY OF  DAN GRADING CANDIDATES ARE AS FOLLOWS. 
I would kindly like to raise the below questions that can be answered by reading and understanding the book "Think out of the box" and through the candidates'  personal experience in martial arts.
1) Can you explain what energy is and where and how it moves inside your body? If you are going to explain and teach mental training, you should study and know how to learn it.
2) With the understanding you have of energy and its movement inside the body, explain what is good for our body and mind. Why?
3) What is the relationship between mind and body when practicing martial arts? How can that be extended to personal life?
4) What practical examples can you give of learning the above (energy, relationship between mind and body, what is good for the body) through your training in martial arts?
5) If you know all of the above well, what will you do next? How will you develop yourself for your next level in martial arts and in life?
6) What are your thoughts or experiences on meditation upon a cliff, a rock or a similar natural environment?
7) What is the relationship between ancient martial art teachings and modern life? Should you look backward or forward in your training and your life?
8) Do you have a beautiful mind? If so, what does it mean? Can you describe it in a way that can be taught to your students? Can you explain how to achieve it through martial arts training?
9) When you teach martial arts, do you only teach fighting skills? If not, what else do you do, and is mental training included? Can you explain what it is in reality and how it works?
—
We will be able to get rid of illusions, false images and untruthful things in our consciousness or around us through studying "Think out of the box".
In the 20th century, it has been 50 years since senior martial arts instructors and Grand masters from Korea started to spread martial arts all over the world both emphasizing body and mind with the spirit of their arts. They have been showing and teaching power and technique that stretch the limits of human physical capabilities.
Commencing with this book publication, I am going to start to teach how to learn and teach mental and physical skills with ease and simplicity according to the principles of nature. In modern times we can use these skills for better training and better life because all around us is interconnected in the universe.
10) There is one part in the teaching and studying of martial arts that has been mostly forgotten in modern times. Some rare dojangs still include it in their teaching, but the content varies according to the teacher's abilities. Can you tell which part that is, when we are used to teaching about just body and mind?
11) What is the essence of martial arts?
12) In your personal opinion, what is the most important part in martial arts for you?